Post by rise13eyond on Sept 10, 2022 13:21:15 GMT -5
So I was going through all my dolls and decided to throw together a little something comparing my worst/least favourite to my best/ most favourite. Of course there's always room for improvement and you're free to have differing opinions but these are mine.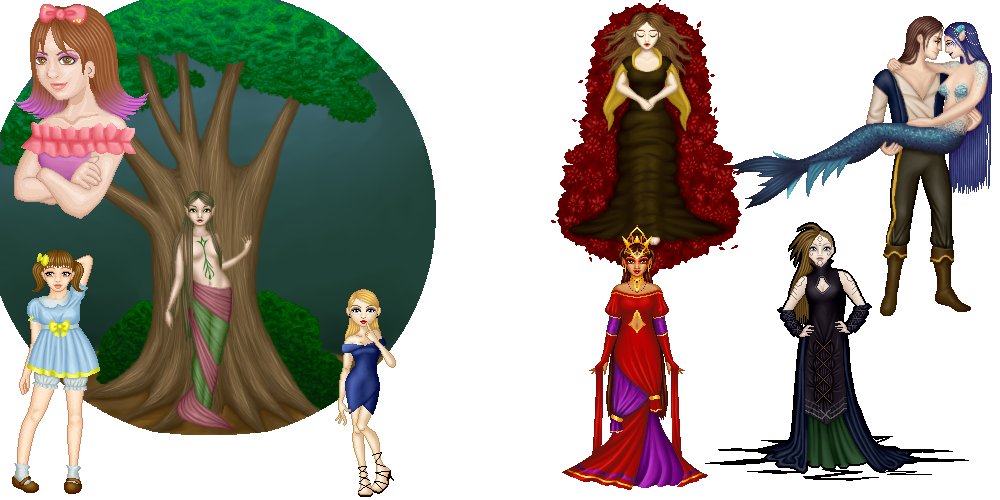 Sorry for the wall of text, I don't know how else to do it.
I think my worst doll ever is a portrait I did of my friend Stacy (base unknown). It's sloppy, the lighting is inconsistent, and WTF is going on with those eyes? LOL. The blue baby doll dress (base unknown) was a huge disappointment, since I actually have that dress, the base was cute and so was the idea but the execution just was not. The blonde with the blue dress (again unknown) is overall just boring. The shading ended up blended in a way that looks too airbrushed and there's not enough detail to make it interesting. And the dryad (DHF) is one big ball of boredom. The colours are dull and don't work together, the textures are awful, and the tree looks goofy, the doll itself isn't the worst but again it's very boring and doesn't look very cohesive.
But onto the GOOD Stuff! My all time favourite is probably the hunter and the mermaid (base unknown). The shading turned out better than I had hoped, the texture of the scales on her fins were surprisingly good for not have much experience with that texture, and it's just plain pretty. Next it the goddess Imitruskelli (DHF), it's dark, strange, and I love it for that! It has what I feel are some very unique and interesting design choices and I love the overall look. The queen in the red and purple (my base) is an old one but still great considering that. I love how the folds of her dress work and it's got a lot of small detail which I am proud of. She's a character from a novel I'm working on, and while she actually dies before the start of the story she still plays and integral part of it, so I wanted her to be especially beautiful, and considering the country she's from hold beautiful and fancy looking women in higher esteem it was important that she looked over the top. And finally the girl on the bed of roses (my base), she's meant to be a sort of sleeping beauty type character, it was imspired by Nox Arcana's Labyrinth of Dreams. It was a bit difficult to get her looking like she ways laying down but I did it! And the bed of roses was easier than anticipated. Overall it's delicate and pretty and I couldn't ask for more!
Anywho that is all for now, what do you think?
So what are your worst and best dolls, show me!